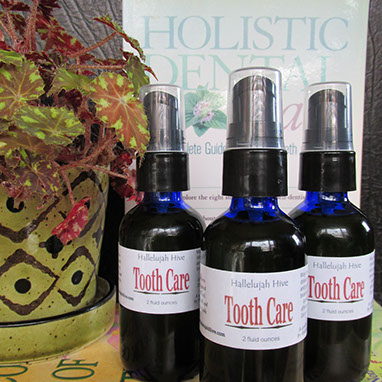 Tooth and Gum Care Oil
"Don't look a gift horse in the mouth". In other words the shape of the teeth and gums can tell a lot about the health of a living creature. This includes us humans. Here at Hallelujah Hive we've researched the healing oils God gave us and put together this product that has been a help to our family so we want to pass it on to you and your family. May your mouth be blessed!
Ingredients: Fractionated Coconut Oil, Neem Oil, and Essential Oils of Peppermint, Tea Tree, Sea Buckhorn, Clove, Myrrh, and Cypress
Myrrh is very good for oral hygiene in that it strengthens gums, and has antimicrobial and antibacterial properties. Myrrh is the most commonly used essential oil for mouth sores. Myrrh EO acts as both an antiseptic and a soother. For this reason, it has traditionally been to support gum health and to heal mouth ulcers. It may also assist gum tissue health by supporting the flow of blood to the tissue.
Peppermint is an antiseptic which helps to treat pain. Great in a mouthwash or toothpaste, which is why it is such a prevalent flavor in oral hygiene products. Very effective in combating bad breath. Researchers have found that the peppermint EO is extremely effective at killing anaerobic bacteria, the type of bacteria that thrive in a low oxygen environment such as the mouth, and can cause gum disease.
Clove is one of my favorite essential oils for healthy teeth and gums. It helps fight germs and, like peppermint, numbs pain and fights bad breath. Clove oil is often times used for toothaches. Because clove is so intense, make sure to dilute it well before using.
Sea Buckhorn has been studied and found to repair the mucous membranes. It will benefit those suffering from tartar buildup and gum disease, rich in Omega 3's and is an anti-inflammatory. Abundant in Omega 7 essential fatty acid which is very helpful at improving lubrication throughout the body, including saliva.
Cypress has the power to stop excess blood flow, and it promotes the clotting of blood. This is due to its hemostatic and astringent properties. Great for bleeding gums.
Tea tree fights infectious microorganisms in the mouth that destroy tissues, cause plaque, receding gums and tartar deposits. Plaque prevention, Bad breath, Gum disease, Toothache, Mouth sores or canker sores and cold sores.
Neem – an antibacterial ayurvedic herb. A number of small studies, anecdotal evidence, and thousands of years of traditional use, all agree that neem may...
prevent and heal gum disease

prevent cavities

eliminate bacteria that cause cavities and inflammation of the gums
Apitherapy Honey Organic Elderberry Extract
Traditionally used in the winter season to support overall immune system health, preventing and healing sore throat, colds and flu. A couple tablespoons a week for prevention, one tablespoon every two hours for healing.
Ingredients: US Grade A Raw Honey, Elderberries, Organic Apple-Cider Vinegar, Propolis, and Echinacea. Other ingredients: Pure Grain Alcohol and Water. (No need to refrigerate)
Apitherapy Honey Wild Cherry Syrup
Traditionally used to ease coughs and congestion and help the body heal itself. Also great for sinuses! Take one tablespoon as needed.
Ingredients: US Grade A Raw Honey, Organic Apple Cider Vinegar, Elecampane Root, Propolis, Usnea, Wild Cherry Bark, Ginger Root, Licorice Root, Essential Oils from Lemon, Peppermint, and Eucalyptus. Other Ingredients: Pure Grain Alcohol and Water. (No need to refrigerate)
Honey Gardens Propolis Spray ingredients: Raw Honey, Propolis, Wildcrafted purple loosestrife and usnea lichen in pure grain alcohol & distilled water. Shake well before use. Honey Gardens Propolis Salve ingredients: Olive oil, US Grade A Raw Honey, Beeswax, Sweet Oil, Calendula Flower, Plantain Leaf, Vitamin E Oil and Propolis Extract.