Barley Max
A raw dried juice powder of organic barley grass and organic alfalfa grass with nothing else added. Provides the fuel for the body to rebuild from the cellular level. The body's immune system strengthens (less sickness). Because these greens are the most alkaline food in the world, acid problems like heartburn and acid reflux begin to clear up. (the acid is neutralized). Most sickness & disease are from an acid system and will benefit greatly by adding this very alkaline food for healing. You will notice increased energy. Take a teaspoon twice a day on an empty stomach. Take three or more servings for healing.
Barley Max 8.5 oz powder
(2 month supply) $43.95
Barley Max Veg. Capsules
(200 Capsules) $37.95
Barley Max Berry Flavored 8.5 oz powder
(2 month supply) $45.95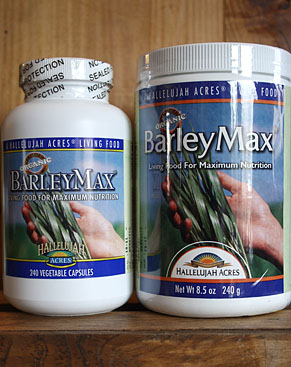 Fiber Cleanse
Contains 28 different herbs in a Psyllium and Flax seed base. Take recommended dose twice a day with at least 16 ounces of liquid, or take the new apple or lemon flavored Fiber Cleanse with it's natural berry flavor for those who don't care for the flavor of Fiber Cleanse.
85% of Americans have parasites and most Americans have 10 to 15 pounds of extra weight in old food in theirs colons in which parasites can house themselves. This also hampers absorption of nutrients. This product will gently broom out the colon, kill the parasites, eliminate toxins, cause youthful energy to reappear, and of course help you lose that extra 10 to 15 pounds.
Fiber Cleanse
(16 oz Powder) $32.95
Fiber Cleanse Capsules
(240 Veg. Capsules) $32.95
B-Flax-D
This multi-nutrient powder contains stabilized ground flaxseed, a valuable source of soluble and insoluble fiber as well as essential fats (Omega 3's); Vitamin B12, which has been shown to prevent nerve damage; Vitamin D, which assists the body in the absorbtion of important minerals like calcium; and seleno-yeast, a source of the mineral Selenium, which has antioxidant activity that helps protect the immune system by preventing the formation of free radicals that can damage the body. B-Flax-D is formulated specifically for long term-use, providing an easy transition for those who have been utilizing the Hallelujah Acres Fiber Cleanse product.
B-Flax-D Dietary Supplement
(2 lb) $24.95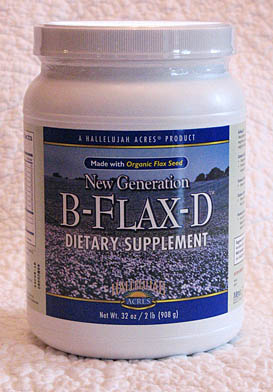 CarrotJuiceMax
For those times when you simply can't juice fresh carrots, you can use this convenient juice powder, made from fresh carrots to give you practically all of the nutrients available from fresh carrots. High in nutrition and naturally sweet, with no artificial ingredients, Carrot Max is the perfect fresh juice substitute.
CarrotJuiceMax
(8.8 oz Powder) $39.95
Out of Stock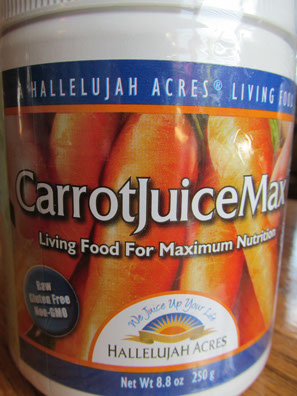 Beet Max
Great liver cleanse. A juice powder made from organic beets, which are a rich source of two powerful anti-oxidants: Beta carotene and Vitamin C. Beet Max contains no artificial ingredients and gives you the best of this fresh organic juice in this convenient powder form.
Beet Max Dietary Supplement
(8.8 oz Powder) $32.95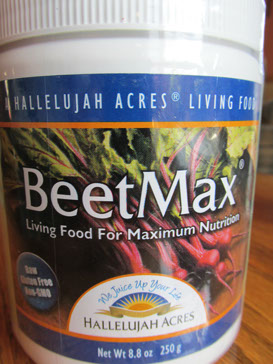 B12, B6 and Folic Acid
The body is designed to produce B12 in the intestinal tract under optimal conditions, but this nutrient is not readily found in a primarily vegan diet. Unfortunately, today's diet and lifestyle does not allow for optimal production of B12 in many individuals. The Hallelujah Acres sublingual vegetarian B12 tablet includes vitamins B6 and folic acid to give you additional health benefits.
B12, B6 and Folic Acid
(60 Vegetarian Tablets) $14.95
Serrapeptase
A proteolytic enzyme naturally processed commercially today through fermentation. Serrapeptase is a natural Chelation-Anti-inflammatory, and has had wide clinical use – spanning over twenty-five years throughout Europe and Asia – as a viable alterative to salicylates, ibuprofen and the more potent NSAIDs. Unlike these drugs, Serrapeptase is a naturally occurring, physiological agent with no inhibitory effects on prostaglandins and is devoid of gastrointestinal side effects.
Serrapeptase digests non-living tissue, blood clots, cysts, and arterial plaque and inflammation in all forms.
Conditions helped: Pain of any kind-- Arthritis—Lower back & Neck problems—Diabetes—Osteoporosis—Prostate—Fibromyalgia—Headaches & Migraines caused by inflammation—The Colitis's—Lupus—Bronchitis—Blocked Veins—Sinusitis—Varicose Veins—MS—Laryngitis—Post Operative & Traumatic Swelling and much more.
According to Hallelujah Acres, Serrapeptase not only reduces inflammation, but one of its most profound benefits is the reduction of pain. Studies by Hans Nieper, M.D., an internist from Germany, indicates serrapeptase may have positive impact on formation of arterial plaque thus equipping the body to prevent and reverse coronary artery disease.
Most chronic and degenerative conditions are preceded by and accompanied with inflammation. Traumatic injury and surgery result in inflammation. Serrapeptase may facilitate the body's innate healing in all of these situations.
Serrapeptase
(60 Vegetarian Tablets) $24.95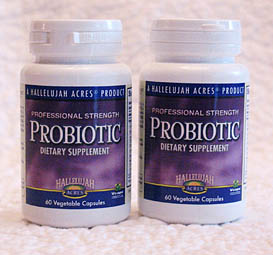 Professional Strength Probiotic
Dietary supplement of good bacteria for the small intestine and colon. Benefits people most who:
· Are most susceptible to infections.
· Have disorders involving diarrhea.
· Have been taking antibiotics.
· Are pregnant and nursing mothers.
· Are undergoing radiation treatments of the pelvis or abdomen.
· Everyone benefits from taking Probiotics regularly.
One capsule with meals.
Professional Strength Probiotic
(30 Tablets) $29.95
New Generation Bio-Curcumin
Curcumin is the main biologically active part of Tumeric. It is believed that its antioxidant properties account for much of its benefit. It has been identified pharmacologically as: Anti-bacterial, Anti-viral, Anti-fungal, Anti-allergenic, Antiparasitic, Anti-inflammatory, Anti-Cancer, Anti-Tumor, Anti-arthritis, Anti-oxidant, and Anti-yeast. Traditionally used for support by those dealing with such conditions as: Acne, Allergies, Diabetes, Liver Disorders, Tumors, Neurodegenerative Diseases, Auto-Immune Diseases, Digestive Disorders, Ulcers, Liver Damage, Skin Rashes, Eye problems (such as cataracts), Burns, Chicken Pox.
New Studies are showing potential benefits with:
Alzheimer's, Cholesterol issues, Prostate issues, Kidney Disease, Liver Disease, Arthritis, Cancer, Anti-Coagulant. Curcumin and turmeric extract help protect red blood cells from lipid peroxidation, helps protect DNA from oxidative damage. Epidemiological studies have previously linked high tumeric intake to lower rates of leukemia, breast, lung, and colon cancer. There are no known negative side effects of Curcumin or turmeric. Take one tablet daily with meals.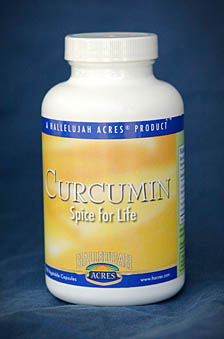 Bio-Curcumin
(60 Vegetarian Tablets) $29.95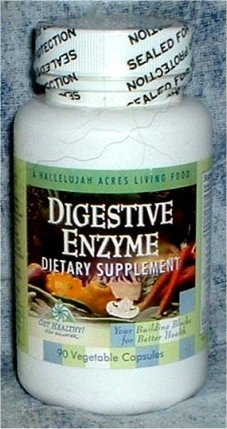 Digestive Enzymes
Helps breakdown all food groups, improving digestion and increasing nutrient absorption. Especially important when eating cooked foods devoid of natural enzymes
Digestive Enzymes
(90 Vegetarian Tablets) $24.95
Send mail to HallelujahHive@epix.net with questions or comments about this web site, or call (570)-401-1353.
Copyright © 2016 Hallelujah Hive
Last Modified: Feb. 20, 2017