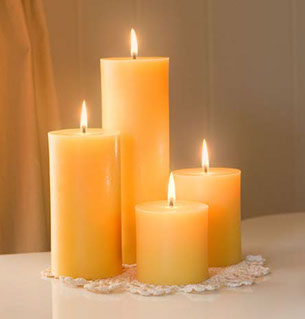 Known as the healthiest and most romantic candles in the world. Beeswax candles have been used since ancient Roman times, and continued to be used by many other civilizations. To this present day, they are still valued. With a beautiful flame, beeswax candles burn very slowly, without any soot or smoke, rarely drip, and give a light honey scent while burning.
The honeybees produce beeswax from the nectar of flowers. Pure beeswax is healthy. Burning beeswax candles produces negative ions. With increased negative ions, studies show: improved air quality, improved sleep, enhanced immune system, relief from hay fever & allergies, less severe asthma attacks, improved concentration, balancing of hormones, natural detoxification, and a sense of well-being.
Our beeswax candles are 100% solid filtered beeswax with all cotton braided wicks. Made in our home with your health in mind. All natural color and fragrance straight from the beehive with nothing added.
How can I get the most from my beeswax candle?
Safety: Always burn candles in an appropriate, fire and heat-proof holder, out of drafts and the reach of children and pets and anything that could catch fire, and never leave a burning candle unattended.
General: Before lighting your candle, trim the wick so it is about ¼ inch length. It is good to maintain this height for the wick, so you may want to check it periodically as you use your candle. Wicks should normally be "self-trimming", and they should never need to be cut once lit. After a wick has been burned, extinguished and is cold, it is very fragile and should not be touched. That said, if a candle begins to smoke, or the flame becomes very large, extinguish, check wick length and trim to ¼ -inch while the wick is still warm and flexible. If a candle begins to drip, extinguish and re-light when cooled (about 20 min.). Candles burned in a strong draft may burn unevenly and drip. Extinguish by pushing wick into wax pool, then pulling it straight or use a snuffer.
Tapers should be firmly stuck in an appropriate holder so they do not tip over. Tapers should burn free-standing (not within 2" of any container such as a hurricane) and may be burned for any length of time at each lighting.
Votives are designed to liquefy while burning and must therefore be burned in a proper votive container. The best is a simple, tight-fitting, tempered glass container, the inside of which is the same size and shape as the votive candle. The container will get very hot while burning and should be on or in a heat-resistant holder. Votives perform best if allowed to burn completely in one lighting, but... should burn at least long enough so the wax surface melts out to the side of the container. Once the candle has only 1/2" or less of wax remaining, let it burn out completely. Only the burn-control metal tab should remain after burning. Pop it out and drop the next candle in.
Tea Lights should be burned in the cup that they come in otherwise, same as votives, except that tea lights should really be burned continuously to burn well.
Pillars should burn for a minimum of 3 hours at each lighting. Many problems with burning pillars are due to not keeping the burning wick trimmed to about ¼ inch. If a pillar does drip, it should be extinguished and allowed to cool before re-lighting, and if a channel has formed in the side, it should be plugged with some wax. If a small, thin wall develops during each burn, push in from all sides towards the center just after extinguishing.
Bloom is the natural frosting that appears over time and only on pure beeswax. It's a good indicator of whether a candle is, in fact, made of beeswax. To remove, wipe candles with expired nylon stockings or by hand - it's good for the skin. You can also run the candle under warm water or use a hair-dryer on it briefly.
Displaying or Storing: Beeswax candles and ornaments can be stored for years. Avoid placing your candle or ornament in direct sun light for an extended period of time since this will bleach the candle to a very light yellow color, almost white, unless you desire this color. Many have claimed that their candles survive the heat of the attic. Beeswax will not melt till temperatures get above 145 degrees. Now that's a hard wax!