Raw Bee Pollen!
The Best! Pennsylvania's Swarmbustin' fresh bee pollen from beautiful, pristine Chester County.
Yes! American Bee Pollen!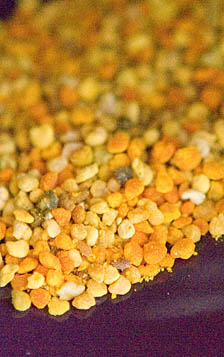 Take it home. Put it in your freezer, and take one or two teaspoons a day. Don't cook it! Eat it in fruit smoothies, cereal, with a nut butter sandwich, or eat it by the spoonful. It is sweet with a slight tang.
The bulk of info regarding pollen's curative, preventative, pharmaceutical and regulatory effects comes from individuals and the scientific communities of Europe. It is claimed that pollen is a cure for several types of anemia in that it stimulates the production of red blood cells. After severe illness or shock, pollen tends to accelerate restoration of weight and strength.
Other Benefits of Bee Pollen:
* Causes an increase in physical & mental abilities
* An excellent treatment for constipation
* A ready supply of muscle building protein for strength and stamina, as many professional and amateur athletes will testify.
* A powerful natural antibiotic and as such is a preventative for many bacterial infections such as colds.
* Profound revitalizing effect on elderly people.
* Tends to normalize major metabolic functions, stimulating appetite in the anemic and curbing it in the obese.
* Retards aging of the skin by preventing premature aging of the cells and stimulates growth of new skin tissue (cell renewal). The skin becomes younger looking, less vulnerable to wrinkles, smoother and healthier.
* Bee Pollen is a low calorie food. Only 90 calories per ounce or 2 tablespoons. Natures true weight-loss food.
Thank you "HoneyBees!"
What is Royal Jelly?
Royal Jelly is a mixture of flower nectars, sugars, proteins, vitamins and secretions that is made by worker bees to help develop and maintain a queen bee. Royal jelly is fed to the Queen Bee throughout her life.
What Are the Benefits?
Studies show it aids in bronchial asthma, liver disease, pancreatitis, insomnia, stomach ulcers, kidney disease, bone fractures, and skin disorders, and it is a potentiator of the immune system. Benefits can also be obtained in cases of bronchitis, migraine, stomach and gallbladder troubles, digestive disorders, bad nerves and the peculiar kind of fatigue resulting from weak functioning of the endocrine glands.
Moreover, it is maintained that people with a predisposition to cancer
will benefit from a regular intake of Royal Jelly.
What Nutrients are in Royal Jelly?
The Banting Institute of Ontario, on analyzing royal jelly found that it is rich in proteins and vitamins of the B complex and especially in pantothenic acid, the vitamin B which has been associated with longevity in animals and humans. The United States Department of Agriculture has said that one gram (1/30 oz.) contains the following: Vitamin B1, Vitamin B2, Vitamin B6, Nicotinic Acid, Pantothemic Acid, Biotin, Inositol, Folic Acid, and Vitamin C.
Suggested Usage
Royal Jelly in honey - one or two teaspoons twice a day, preferably between meals on an empty stomach with a small amount of water (2 tablespoons). For capsules take 1 capsule once or twice a day preferably between meals.